We're Getting Mutants in the MCU - The Loop
Play Sound
Nathan "Nate" Shelley is a main regular character featured in the Apple TV+ show, Ted Lasso. He coaches West Ham United, having previously worked as a kit man and assistant coach for AFC Richmond. He used to be a friend with Ted Lasso and eventually became his enemy, and subsequently align himself with the owner of West Ham United, Rupert Mannion.
Meeting The American Coaches
[
]
---
When Ted Lasso and Coach Beard arrive at Nelson Road Stadium, Nate fearfully tries to get them off the grass of the stadium but upon realizing who they are, he immediately retracted and rushes them to see Rebecca Welton and her assistant Leslie Higgins in her office. When Ted asks his name, Nate doesn't know what to say as nobody had ever asked him that before and he always feels insignificant.
Nate is touched that Ted remembers his name because usually nobody remembers, and then he points out the players such as Sam Obisanya, Isaac McAdoo, Colin Hughes, and Jamie Tartt - the latter makes him uncomfortable to say his name, which Ted notices.
Working for AFC Richmond and Being Bullied
[
]
---
Nate is responsible for cleaning the football kits of the players and also grounds maintenance, so he spends so much time in the locker room, and he has to accept the players' behaviors towards him especially Jamie, who influences players to tease and bully him.
When Roy Kent tells Jamie to stay away from Nate, Jamie instead orders both Isaac and Colin to keep doing it. Roy decides to put a stop to the bullying by headbutting Colin in a nightclub and berating Jamie in front of Keeley Jones, Jeff Goodman, and the rest of the team.
Friendship with Ted and The Diamond Dogs
[
]
---
Ted Lasso empowers Nathan by regularly chatting with him during training sessions and also using his advice in a game against Crystal Palace FC which AFC Richmond eventually goes on to lose.
He even invites Nate as his plus-one for the 10th Annual Benefit for Underprivileged Children and buys him a new suit after seeing him wearing his dad's old suit that is too big for him. Ted tells Nate to walk in confidence, but he walks funnily instead. Nate is thankful to Roy for defending him against bullies, and goes to hug the captain which makes both men uncomfortable.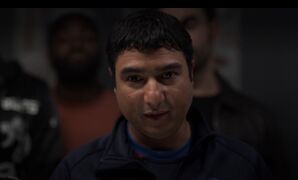 During a training session, Dani Rojas is injured; players and staff members attribute this to a curse at the club. As Dani had entered the treatment room, it is believed he is cursed and would never play for the club again due to injury. Ted suggests that they should come to the treatment room and bring an item from each player at midnight to do a 'ghost cleansing' ritual ceremony.
Nate brings cool sunglasses he cherishes so much because according to a girl he met once, they made him look like actor Clive Owen. But with the encouragement of everyone, he throws the sunglasses into a bin and sets it on fire outside. He even joins in chanting "Richmond 'Till We Die" with everyone, and he feels like a part of the club.
Before the match against Everton F.C. in Liverpool, Nate roasts Isaac in front of other players that he's been playing football like a "big dumb pussy" as a motivation. At first, Isaac gets angry, but Nate explains that he is more concerned about looking tough than being tough, and there is a way to be intimidating without being physical. The motivation seems to work as the team wins the match.
Nate suggests the name of a group of people to talk about their feelings as Diamond Dogs which contains Ted, himself, Beard, and Higgins. They usually howls after a meeting and Nate is happy that he's a part of group of friends.
The Green-Eyed Monster
[
]
---
Nate is doing his usual duty in the locker room when he discovers Will Kitman, a new kit man who is preparing fresh new towels. He thought that he was being sacked and Will is replacing him. When Rebecca comes to see him, he immediately insults her but realizes his mistake as she only wants to give him a new contract and promote him. Ted and the team surprise Nate with a major promotion to an assistant coach. Nate is thrilled especially he receives a new whistle as a sign that he becomes an official coach assistant.
Keen to get his parents the best anniversary present, Nate wants to get them the window table at a Greek restaurant known as the Taste of Athens. However, he is unable to convince Jade, the front waitress who works at the restaurant, so he leaves. He asks Keeley to see if she could help him get the window table, but instead of Keeley, Rebecca gives Nate some assertiveness training. Rebecca tells Nate to make himself bigger physically in a private room to boost his confidence, and she assures him that he deserves everything.
When he and his parents go to the restaurant, Jade still won't give him the window table, which prompts him to go to the bathroom and stare at the mirror. He spits at the mirror and changes his attitude - he demands the window table from Jade, and finally is ushered to the table. He sits with his parents, a proud look overcoming him.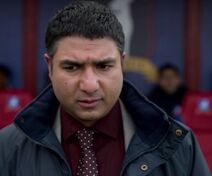 When Isaac is feeling down, Nate offers to talk to him and probably gives him some advice. To his dismay, Ted instead laughs at him because he doesn't think that Nate is the perfect man to handle the situation. Beard glares at Ted, and the man apologizes to Nate for thinking that Nate couldn't handle the job.
In the next match against Sheffield Wednesday AFC, everyone sees Roy enters the stadium and stands with the coaches, signaling that he accepted Ted's offer to become one of the assistant coaches in Richmond AFC. Nate looks distraught because it means his position as an assistant coach is in danger. For the next few weeks, Nate realizes that everyone like Roy better than him. He also starts to berate Will more because it's apparent that everyone also likes the new kit man better.
Passive-Aggressiveness and Betrayal
[
]
---
During a match against Tottenham Hotspur, Ted is having a nervous breakdown so he runs away from the stadium which makes everyone confused. A frustrated Nate orders Tommy Winchester, Paul Reynolds, and Babatunde to substitute Dani, Colin, and Richard Montlaur's positions, and also orders Isaac to use the "Park The Bus" defensive strategy to win the match.
Lloyd is interviewing and congratulating Nate for the club's win against Tottenham Spurs. He asks what happened to Ted beforehand when he left in the middle of the match, talks about risky Trick plays for the match, and then praises Nate for his strategy. Nate talks about the strategy and humblebrags that he's not some kind of "wonder kid", which Lloyd corrects him that the phrase is "wunderkind".
Nate has to confront what it was like to be "The Wonder Kid" at both homes and Nelson Road Stadium. Nate's father Lloyd Shelley is not impressed with his son's success and tells him to show more humility which deflates his confidence. He starts being rude to Colin and Will, insulting their work and every little thing. As a consequence, he is told off by Beard to apologize to Colin. Nate does so and the players gave Nate a "Wonder Kid" T-shirt which was Will's idea.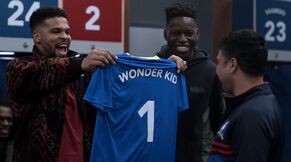 Later, Nate feels humiliated by this especially he remembers that Jan Maas said that the correct word is supposed to be wunderkind. He thought that Will deliberately mocked him so he yells at the boy that he would make his life a misery if the kit man humiliated him again.
Before the match against Manchester City F.C. in the FA Cup, Ted confesses to the Diamond Dogs that he had a panic attack during a match against Tottenham Hotspur, that was why he had to leave the match earlier. He admits that he's in therapy with Dr. Sharon Fieldstone now.
During Paul Welton's funeral, Nate is wearing a suit that Ted bought him a year ago, and everyone keeps reminding him about it even when he defensively says that he bought his own clothes. After the funeral, Rupert whispers something to Nate's ear and pats him on the back. Rebecca sees the gesture and is suspicious about it, especially after seeing Nate smile.
Nate asks Keeley for a new suit so they both are shopping in a very expensive boutique. He likes the suit he bought especially when Keeley compliments him. Not being used to being complimented, Nate kisses Keeley. It's obvious that the kiss freaks both of them, and he can see that she looks at him in pity.
Sometime later, Nate leaked to Trent Crimm that Ted actually left the field because he had a panic attack. Trent feels he has a responsibility as a journalist to report this news, but due to his respect for Ted, he notify him about the article the night before and also leaked his source. Beard suspects that Nate was the one who leaked the news, especially seeing his behavior at the office. Beard tells Ted that he is suspicious of Nate, which Ted agrees as he knew from Trent that his anonymous source was Nate. Ted says that they shouldn't say anything, just let him come to them, but Beard disagrees and tells him to confront Nate.
At the office, Nate confesses to Roy that he kissed Keeley while they were shopping together. It kind of angers Nate that Roy forgives him and doesn't consider him as a threat to their relationship. Beard also expected Nate would confess about the leak as well, but he doesn't say anything. When Nate says that he deserves to get punched for kissing Keeley, Beard offers himself to punch Nate instead, which confuses everyone. The team voices their opinion that they should hurt whoever the anonymous source who leaked the personal information was, which the rest of the team agrees, but Ted rather everyone focuses on their match against Brentford FC for a place back in the Premier League.
When the squad's moral is low after being beaten during the half-time, Isaac touches the "BELIEVE" sign on the wall, follows by the rest of the team members while the coaches (minus Nate) and Will looks proudly. Ted confronts Nate which makes the former kit man explodes. He thinks that Ted doesn't appreciate him and everyone is also underestimate him. He needs to be where he'd be appreciated it and tells Ted to fuck off.
During the match against Brentford, They finally win the match in a tie, and everyone is celebrating, but Nate looks at his former club in fury. He goes back to the locker room and rip the 'BELIEVE' sign and put it on Ted's desk.
Three months later, Nate is the new manager of West Ham United, and while he's observing the players during training, Rupert approaches him and whispers something in his ear, while patting his back.
Trivia
[
]
---
He owns an old, small, green 1996 Rover Mini Sprite MKVI.
Although the whisper is inaudible, for the season 2 finale episode, Rupert whispered "You're welcome" in Nate's ear.