Jurassic World: Dominion Dominates Fandom Wikis - The Loop
Play Sound
Roy Kent is a main character featured in the Apple TV+ series, Ted Lasso, as the captain of AFC Richmond, and now the coach for the club. A champions league winner with Chelsea FC 8 years ago, Roy was once considered as one of the league's best players but, whilst he is still a widely respected fan favorite, has seen his talents decline as he approaches the end of his career, something he is conscious of.
He is hardly seen with other team members because he is the oldest of the players. Usually after practice, he'd go straight home, but now as a coach, he'd spend some times with The Diamond Dogs that has members of Ted Lasso, Coach Beard, Leslie Higgins, and Nathan Shelley. Most of the time, he spend his private time with his girlfriend, Keeley Jones, and his niece Phoebe.
Roy is always angry or at least has a permanent scowl on his face. Instead of talking, he would grunt or yell at someone. But deep down inside, he is actually very nice and vulnerable which Ted, Keeley, and Phoebe notices.
Meeting Ted Lasso and Playing For AFC Richmond
[
]
---
Roy thinks that their club's new manager slash coach from USA is ridiculous. Although he wasn't a fan of their previous manager, George Cartrick, as he thought that he was a prick, Roy is very cold to the new coaches.
At the locker room, both Ted and Beard observes the dynamic of the players. They sees Roy stares at them coldly, so Ted decides to introduce themselves but he is being interrupted by Keeley who is picking up Jamie Tartt. When he is trying to continue their introduction, the players ignore them, including Roy.
When Ted calls Roy to their office and compliments him for being a talented footballer, Roy instead insults him by calling Ted "Ronald Fucking MacDonald". Ted asks Beard whether he'd let Roy call him that, which Beard only shrugs and say that it wasn't him who got insulted. Ted only smiles and say that they will win Roy over, which Beard agrees that it will make the footballer furious.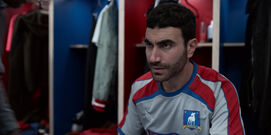 Roy sees Nate being bullied by Jamie and his cronies, Isaac McAdoo and Colin Hughes, so he asks the coaches to stop it, but Ted declines citing that it would make everything worse. Ted also wants to develop Roy into a proper leader, including encouraging the captain to sort out issues of teasing and misbehaving among the players.
Roy is in disbelief that the new manager refuse to help, so he take it personally. When he tells Jamie to stay away from Nate, Jamie instead orders both Isaac and Colin to keep doing it. Roy decides to put a stop to the bullying by headbutting Colin in a nightclub and berating Jamie in front of Keeley, Jeff Goodman, and the rest of the team.
During the 10th Annual Benefit for Underprivileged Children, Nate is thankful to Roy for defending him against bullies, and goes to hug the captain which makes both men uncomfortable.
The Leader and Rivalry With Jamie
[
]
---
At Richmond Primary School, Roy joins Ted in working with pupils in football related activities. Roy's niece, Phoebe, goes to the school and they coach her through the activities. When Ted thanked Roy for being supportive and calls Phoebe as cutie-patootie, he gets angry about Ted's mind games and gifts and asks about 'A Wrinkle In Time' book that he got. Trent explains that it's a lovely novel about a young girl's struggle with the burden of leadership as she journeys through space. Roy angrily deduce that the little girl is supposed to be him, and he storms off with Phoebe, not before he tells off Ted and calls Trent a prick.
Roy ends up reading the book to her, and in the process realizing that the point Ted is trying to make with the gift is to be the leader of AFC Richmond team. Upon realizing it, he curses loudly but Phoebe reminds him that it's a bad word, which he tells her to mind her own business, but he kisses her goodnight anyway.
Roy is engaged in frequent fights with the star player Jamie, who keeps calling him an old man. When a fight breaks between Roy and Jamie in the locker room because the former is bullying Sam Obisanya, Ted decides to handle the rivalry at the benefit event which Jamie attended along with his girlfriend, Keeley. Jamie and Roy learn to respect each other more after having a hearty conversation while drinking.
Their truce doesn't last long, because during a game against Watford F.C., Sam falls down, and instead of helping him, Jamie rolls him over and even walks over him, which makes Roy angry and he fights Jamie on the field. Football commentators Chris Powell and Arlo White shocks to see this kind of behavior from the same team. In a risky move, Ted substitutes Jamie off the pitch with Robbie Roberts to act as a lesson for him. Jamie angrily tell Ted off as the crowd boos, disliking the decision. However, Richmond went on to win the game thanks to a fantastic pass from Roy and a goal from Sam.
During a training session, Dani Rojas is injured; which players and staff members attributed this to a curse at the club. As Dani had entered the treatment room, it was believed he was cursed and would never play for the club again due to injury. Roy refuses to check the treatment room as he is very superstitious so Ted decides to call every player to The Crown & Anchor and tell them to listen to Leslie Higgins and pub owner Mae telling a story about the origin of the curse. Ted suggests that they should come to the treatment room and bring an item from each player at midnight to do a 'ghost cleansing' ritual ceremony. Everyone, including club owner Rebecca Welton, throw items into a bin that means something to them and pay respect to prospective footballers and soldiers who fought in the war and had sacrificed things close to them.
Roy brings an old blanket given by his granddad when he was nine years old and scouted by Sunderland FC. His granddad said that it would make little Roy warm and to remind him of home after he arrived in London. It was the last time he saw his granddad as he passed away during Christmas that year, which is why the blanket he called 'blankie' means a lot to him, so he tosses it to the bin. The players surrounds the burning bin and sang "Richmond 'Till We Die" together, making AFC Richmond truly united. Unfortunately, Rebecca decides to give Jamie back to Manchester FC the next day, and ignites Roy and Jamie's rivalry again.
Retirement and Relationship With Keeley
[
]
---
Before the match against Everton F.C. in Liverpool, Nate roasts Roy by calling him old and slow, even say that he's no longer has fire inside of him. The tough talk from Nate makes him fired up and he grab the bench in the locker room and flips it, which in turn fired up the team and they win the match.
With Keeley breaking up with Jamie, Roy started developing feelings for her and eventually walks her home after the karaoke party the team attended after AFC Richmond beat Everton F.C. 1-0 at Goodison Park. They kiss outside Keeley's hotel room before he stops and make his way back to his room, which confuses her. After resolving some internal conflict to do with his feelings for Keeley and his hatred for Jamie, Roy eventually decides - with the help of the Diamond Dogs - to put the hatred aside and start seeing Keeley regularly.
During the final match against Manchester City F.C., Roy chases down Jamie and manages to tackle him but with a heavy price as he hurt his knee badly. He refuse to go back to the locker room with a stretcher but with thunderous applause from the fans, he is being serenade by them with his own chant: "He's here, he's there, he's every-fucking-where. Roy Kent!". Football commentators Chris Powell and Arlo White are commenting that this feels like goodbye from Roy, and inside the locker room the former captain is crying and being consoled by Keeley.
Life Post-AFC Richmond
[
]
---
After Roy's retirement from Richmond, he's been coaching Phoebe's West London Under 9 Girls football team at Richmond Primary School. He's criticizing the children like adults by swearing left and right but at the same time encouraging them to play better. Phoebe's friend, Kokoruda, apparently a great football player, despite her age and height. Ms. Bowen reminds the coach that he shouldn't call the children a bunch of pricks, but it seems Phoebe and the rest of the team are used to it, and it doesn't bother them at all.
Keeley and Roy are discussing about the possibility of him accepting the pundit job on Sky Sports television channel as a part of Gillette Soccer Saturday panelist. Roy refuses as he hates those panelists. At a dinner with Keeley, Rebecca, and her boyfriend John Wingsnight, Roy doesn't want to talk about him being a pundit on Sky Sports or his past career choices. Rebecca asks what they think about her new boyfriend, and Roy thinks that John is boring and fine, so he makes a passionate plea to Rebecca that she deserves more than someone "fine" to be with.
During the Richmond Primary School Football match, Phoebe's team lost the game, and her uncle is telling the girls that they should remember the lost and burn it to their brains. Phoebe asks for the trophies which a disappointed Roy handed the consolation trophies to the players and tell them they are all losing for nothing. Ms. Bowen once again reprimand the coach, and tells him that the important thing is that the coach cares about them. Roy begrudgingly tells the girls that it has been an honor coaching them and he hopes everyone would come back next year, but only if they fucking mean it.
Later, the idea for being a pundit is brought up again by Keeley and Roy eventually concedes to trying it out. With this, he appear on Gillette Soccer Saturday alongside Chris Kamara and George Cartrick with Jeff Stelling as host. Despite his curses and bad language being questioned, Roy is met with positive acclaim especially from his fans on social media. Even Jeremy, Baz, and Paul praises him while watching the show, saying how much they love his candor.
During Christmas, Keeley and Roy were supposed to spend some intimate time together, but he brings a distraught Phoebe to the house because her mother got called for surgery at the hospital. After a bit of cajoling, Phoebe admits that the reason she is been upset and sad for a week is because a boy at school has been mean to her. That angers Roy but Keeley encourage her to tell more of the story, so Phoebe tells them that a boy named Bernard gave her a package of toothpaste and mouthwash because her breath smells bad and he told everyone at school. Roy threatens to kill the boy and Keeley checks Phoebe's breath, which is actually really bad. Roy then sniff his niece's breath as well, and he almost faint because it smells bad.
Roy decides to take both Keeley and Phoebe around the neighborhood to find a dentist and fix the problem. For the whole day and afternoon, the three of them are knocking each doors looking for a dentist - and they finally finds Dr. Rogers, a dentist, at her home. The dentist discovers that the reason why Phoebe's breath is so rancid is because of her new drug prescription of antihistamines she has taken because she just rescued a cat.
Roy tells Phoebe to get rid of the cat which Phoebe refuses. They end up at a pharmacy to buy a new medicine for Phoebe, and Roy also asks the pharmacist to bring them some poster board and markers. The three of them visits Bernard's house, the boy who teased Phoebe. Phoebe has written many things on the poster board that basically said that she forgives him but if he keeps bullying him, Roy will kill the boy. Bernard sees Roy growls next to Phoebe and deterred.
Hello, Coach
[
]
---
When Roy is having lunch at the Kebab restaurant, Ted suddenly, but not unexpectedly, appears. Roy mentions that he knows that Ted is looking for him from Keeley. Ted wants Roy to return to AFC Richmond and offers him the coach position. Roy immediately says no. Hus overheard the conversation and immediately thinks that Ted is Roy's father or a father figure.
Ted corrects him that he's actually a football coach, but Hus thinks it's similar anyway, and tells a story about his own relationship with his father, and how he was supposed to be a surgeon, but he'd rather be a cook and make Kebab. The point that Hus is making is do whatever it is that makes you happy.
Ted asks Roy for some help for Isaac because he has trouble coping with being the captain, but Roy refuses. After some reluctance, Roy asks Ted and Isaac to meet him at the place where he grew up and used to play football. Roy then tells Isaac to play a football game with some locals and after a few rounds, Isaac finds his bearing and has so much fun at the friendly game. The key message Isaac has to accept from Roy is to have fun while playing football.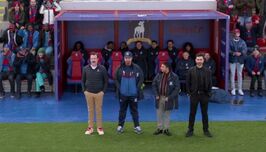 In the next match against Sheffield Wednesday AFC, Isaac is doing a fun warm-up handshakes with his fellow teammates and coaches. It prompts Chris Kamara to comment that it's nice to see Isaac's smile which makes Roy abruptly leave the panel and run off to the Nelson Road Stadium to accept the coaching position. Isaac sees Roy enter the stadium and hear the crowds' chant, welcoming him while the new coach takes a stand beside the coach team.
Roy is coaching the players and everyone is happy that the club has some winning streaks under his tutelage, calling it "The Roy Kent Effect". However, as Jamie has returned to AFC Richmond after being fired from Lust Conquer All and Manchester City F.C., Roy refuses to coach him especially now he play it safe. They both argue but Ted say that Jamie is mature now and Roy should be a mature person too, which prompt Roy to insult Ted for making Jamie a lame player. Roy tells Jamie to be an asshole player on the field but not in real life, and he will give him a sign when to be a prick.
During the match against Tottenham Hotspur, Roy and the coaches are giving him a signal to be a prick, by flipping him the bird. Jamie understood the assignment and immediately baits other rival player by insulting him, which gives him a chance to have a penalty kick. Everyone is afraid that Jamie's penalty kick is too far, but Roy believes that he can do it, which he does and the team is leading, and in the end they win the game.
After the devastating loss against Man City, James Tartt burst into their locker room and starts insulting Jamie and the rest of the team players, ended up with the old man getting punched by his son. The players are stunned and not able to do anything about it, however at the same time Moe Bumbercatch, Declan Cockburn, and Paul Reynolds want to help Jamie but they get restrained by Jack Dawkins and Kukoč so the situation won't escalate. Coach Beard then takes James outside, and possibly rough him out. Jamie gets very upset which prompt Roy to embrace him tightly while everyone else watches the interaction.
Positive Influence
[
]
---
Ms. Bowen calls Roy to school because Phoebe's mother cannot make it, and to tell him that the reason why is due to Phoebe's behavior in school. The girl swears and curses a lot especially after she called a boy an "apathetic shitfucker" which doesn't bother Roy at all. The teacher then asks Roy whether he has any idea where she learned the swearing, but apparently he doesn't have a clue, but after seeing Ms. Bowen's face he realize that Phoebe learned it from him. He curses after learning that he influenced her, and because this is her fifth offense, Phoebe has to go home for the rest of the day. Phoebe apologizes to Ms. Bowen for her swearing and then asks her uncle whether they can get some ice cream, which he replies "Fuck, no!"
After getting ice cream anyway, Roy and Phoebe have a hearty discussion about her swearing. Roy tells her that she shouldn't swear especially when she wants to be a veterinarian for wild animals. He confesses that sometimes he's afraid that he has been infecting her with the worst part of him, but Phoebe wisely says that he's done nothing but teach him great things.
When Rebecca's father passed away, the whole team supports her and they are coming to the funeral. While they are in Deborah's house for the wake, Jamie confesses to Keeley that he didn't just come back to Richmond to get away from his dad, but he came back for her. He thinks that he's becoming a better version of himself; the kind of man that she always believe he could be. He then says "I love you" to her, and then leaves. Keeley is stunned hearing his confession but doesn't say a word. Roy also confesses that he loves her so much, and the two embraces.
When Roy is picking Phoebe from school, he is surprised to find out that it's a half-day and everyone already went home, including his niece who was picked up by her mother. When he sees Ms. Bowen hanging the students' artworks, he asks for Phoebe's, but her teacher says that she won't be able to put her drawings on display. Curious, he looks at the drawings and is in shocked to see they are charcoal sketches of breasts.
Roy then help Ms. Bowen decorate the classroom for the Parent Mixer, and they have a little chat about how Phoebe likes her teacher because she's a tough teacher. Ms Bowen then casually asks Roy whether he's married, and he answers no. Roy then pays for Phoebe's drawings and leave to a magazine photoshoot with Keeley.
Keeley tells him that Nate kissed her before the photoshoot. Roy thought that it must've been an awkward situation but doesn't get upset about it. During the photoshoot session, Keeley admits that Jamie confessed that he still in love with her. Roy is angry and confronts Jamie at the club, but before he could do anything to him, Jamie apologizes and realize that what he said to Keeley was inappropriate, which makes Roy angrier because he can't do anything so he leaves.
At the office, Nate confesses to Roy that he kissed Keeley while they were shopping together. It kind of angers Nate that Roy forgives him and doesn't consider him as a threat to their relationship.
During the match against Brentford FC for a place back in the Premier League, Jamie is able to get himself a penalty kick when the goalkeeper from Brentford tackles him. Instead of doing it himself, he gives the penalty kick to Dani. Dani says his motto: "Football is life" and scores the goal. The rest of the team are celebrating their winning and their place back in the Premier League on the field. While celebrating on the field with others, Roy headbutts Jamie and then hugs him very tight.
Three months later, Roy asks Keeley to go on vacation but she refuses, citing her new work as the head of her own PR firm. Roy asks whether they are breaking up, which surprises her. She assures him that they are not breaking up, she is just busy that is all. Roy seems unsettled about the whole thing.
From Arlo White's cheat sheet (Man City match):
Reports suggest he'll be on the bench
Captain / 3 goals / 9 assists / 1 own goal
England Int'l - But last cap (appearance) was England's humiliating defeat to Iceland at Euro 2016
Sunderland Academy product
Notes
[
]
During the karaoke party to celebrate Richmond's victory over Everton, Roy knew the words to Frozen song "Let It Go", performed by Rebecca Welton.
Roy confessed that he used to date Gina Gershon.
There are theories about Roy and Keeley's relationship - there is a possibility that Roy wanted to propose to Keeley but couldn't because she refused to go on vacation with him.