Teamwork makes the team work.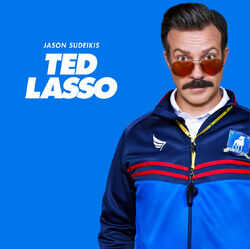 Ted Lasso is the story of a Kansas football coach who gets tapped to coach a pro English soccer team — despite the fact he knows very little about the game.
The original comedy series was created by star Jason Sudekis and Scrubs exec, Bill Lawrence. Based on a pre-existing format and characters from NBC Sports that went viral on the internet, the series was developed by Sudekis, Lawrence, Joe Kelly and Brendan Hunt.
In addition to Sudekis and Hunt, the Warner Bros. co-production also stars Hannah Waddingham, Jeremy Swift, Phil Dunster, Brett Goldstein, Brendan Hunt, Nick Mohammed, and Juno Temple.
Ted Lasso is available to view on Apple TV+ from Friday, August 14.
In it to win it. Or lose it. Or tie.
About Us
We're a community run and maintained by people just like you! Created by fans, for fans, the Ted Lasso Wiki is dedicated to creating a comprehensive and informative resource about Ted Lasso on Apple TV+.
We also have a place for getting to know each other and to talk about Ted Lasso in our Discussions. Whether you are here to start editing or to chat with fellow users, you are welcome to sign up for an account!
Community content is available under
CC-BY-SA
unless otherwise noted.